1 / Europe Low Emmission Zones
More than 200 cities and towns in 10 countries around Europe already have in place, or are preparing to launch, 'Low Emission Zones' (LEZ) - areas where the most polluting vehicles are regulated in some way. Vehicles may be banned or in some cases charged if they enter the LEZ when their emissions are over a set level.
The AA Offer great up to the minute advice.   CLICK HERE

Detailed Information:
'Urban Access Regulations in Europe' is a publicly funded website (in English), run on behalf of the European Commission.
2 / France
The cost of motorway travel for a passenger car is about 1 €uro for 10 miles.
Many toll-gates are for both credit-card payment and Telepéage... meaning that if you have a télépége transpondre, you may still get held up behind people paying by card, if there is a queue.  Cash payment toll-gates (green arrow or pictogram of coins) will provide change – even the automatic ones.

Sanef France has extended the Liber-t automated French tolls payment service to UK motorists through Sanef Tolling. Sanef Tollings telepeage tags enable UK motorists to use the automatic telepeage/tag lanes, which have previously been reserved for French residents.
Have your Liber-t Box sent conveniently to you at an address in Europe so waiting for you on arrival.

Pre Purchase here:   http://tolltickets.com/ 
3 / Germany
Only with emission sticker - also applies for foreign vehicles!
The so-called Kennzeichnungsverordnung" (Vehicle Registration Regulation) came into effect in Germany on 1 March 2007. This law enable cities and municipalities to set up environment zones if the emission threshold values for fine particles are exceeded. These measures are intended to ensure cleaner air in inner city areas and other densely trafficked areas by only allowing vehicles with the proper sticker to drive in these zones. In this way Germany implements EU Air Quality Directive 1999/30/EC. 

Numerous cities have set up or decreed environment zones to reduce pollution in their city centres. Vehicles with particularly bad exhaust values such as old diesel vehicles without particle filter systems and vehicles with petrol engine and an insufficient exhaust cleansing (regulated catalyser) are not allowed to drive in the environment zones.  
The zones polluted by emissions are designated with the sign "Umweltzone". A supplementary sign shows which vehicles with which sticker are allowed to drive in the environment zone.
The owner of the vehicle (German or foreign) is required to present the registration certificate of the vehicle and pay a fee of 5 to 10 Euros. The colour of the vignette issued will depend on the type of engine and the Euro classification of the vehicle.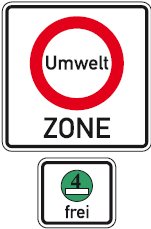 The fee is a 'one-off' charge and remains valid as long as it remains valid in any German City as long as it remains fixed in the vehicle i.e. not transferred to another vehicle.
Have your Vignette sent conveniently to you at an address in Europe so waiting for you on arrival

Pre Purchase here:   http://tolltickets.com/
4 / Italy & San Marino
RESTRICTED TRAFFIC ZONES IN ITALY
Traffic is restricted in many historical centres/major towns in Italy known as 'Zone a Traffico Limitato' or ZTL's. Circulation in these areas is either fully prohibited, only permitted for residents or there are time restrictions that apply. Entering such areas whether using your own car or a hire car will almost certainly result in you receiving a fine by post, sometimes many months later.

Tolls in Italy with Telepass & VIAcard
The Italian toll system is complicated and for tourists it takes getting used to. Not only that, but different motorway operating companies are in charge of individual route sections.

The toll amount mostly depends on the route length and is usually determined by means of a ticket issued at the motorway access, or a flat rate is charged on some motorway sections. Payment can be in cash, at some places with credit card or everywhere with the VIAcard and Telepass. Because - except for Sicily* - only the VIAcard and Telepass are accepted all over Italy and are recommended to avoid queuing at cash payment booths.
Automated toll payment with a Telepass used to be only possible for users with an Italian bank account. But now tolltickets and its service partners provide the Telepass with VIAcard to all European users outside Italy - without the need for an Italian bank account!

No stopping with Telepass
You can manage the Telepass** easily and above all quickly, as a small electronic receiver which is attached to the windscreen. This box enables you to use the specifically designated Telepass lanes at Italian toll stations, thereby enabling you to continue without having to stop. The Telepass registers every transit passage and automatically transmits the corresponding data to tolltickets for charging purposes
Have your Telepass sent conveniently to you at an address in Europe so waiting for you on arrival.
Pre Purchase here:   http://tolltickets.com/
5 / Switzerland
Driving on motorways requires a VIGNETTE (toll sticker) 
If you rent a car in Switzerland (as opposed to in France etc) it WILL have a vignette. If you don't drive on what we would call limited access highways or interstates, there are no tolls. The 40 franc vignette replaces all tolls including any tolls for tunnels, etc. The vignette is available at the border or at service areas just before the border (it's something like 26 or 29 Euros or 40 francs). Don't get caught on a toll road without one as the fine will be pretty steep.
6 / Austria
Driving on motorways requires a VIGNETTE (toll sticker)
A vignette can be purchased at most petrol stations and at border entry points. A 10-day Vignette costs € 8.70, a 2-month Vignette costs € 25.30. The Vignette must be stuck to the inside of your car's windscreen and permits travel on all motorways within Austria. This is strictly enforced by motoway patrols and failure to comply will result in on the spot fines. (Most hire cars will come with a vignette supplied.) Vignettes are compulsory on all motorways and expressways in Austria, except road sections with tolls depending on mileage:*
A9 - Pyhrn Motorway: Bosruck Tunnel
A9 - Pyhrn Motorway: Gleinalm Tunnel
A10 - Tauern Motorway: Tauern and Katschberg Tunnels
A11 - Karawanken Motorway: Karawanken Tunnel
A13 - Brenner Motorway: Entire route
A13 - Brenner Motorway: Exit Stubai
S16 - Arlberg Motorway: Arlberg Road Tunnel
7 / Netherlands
There are no toll roads in Holland. However, a small fee is payable on 2 tunnels.
Dordse Kil in the Biesbosch region you have to pay a small € 2.00 fee, and the Westerschelde Tunnel you have to pay a small € 5.00 fee.
8 / Spain
Tolls in Spain with VIA-T
Many motorways in Spain are subject to a toll charge. At the toll stations, you are able to choose between a manual or an automatic toll payment.

Manual payment:

At most of the entry stations, you must take receipt of a ticket by pressing the knob on the automatic machine. Alternatively, there are motorway sections for which a fixed charge has to be paid independently of the distance which has been driven.
When leaving the motorway, or at the pay-points, you must use a personally specified lane in the event of a cash payment. Present the toll ticket to the personnel and settle the requested amount. If you want to pay with a credit card or fuel card, then use the specially designated lane for card payments. Insert the ticket into the machine first of all and subsequently the credit card for settlement of the toll amount due.
Automatic toll collection:
Lanes signposted with "Telepeaje", "VIA-T" or just "T" are reserved for vehicles carrying a small device - the VIA-T Box - for automated toll payment. With the VIA-T Box you can pass toll stations without stopping. Motorway access and exit are registered automatically. Tolls are settled conveniently using your selected means of payment.
The main advantage of the VIA-T box lies in the fact that you are able to use the reserved lanes without having to wait in the tailback in lanes for manual payments
Using the VIA-T box:
At each toll station in Spain, there are lanes for the automatic toll settlement with a VIA-T Box. In order to select the correct lane, attention should be paid to the following signs.
All lanes at toll stations which are designated with a blue circle and a white "T" are exclusively reserved for users with a VIA-T Box. No other means of payment will be accepted in the aforesaid lanes and you are able to drive through the toll station without having to stop.
All lanes at a toll station which are designated with a blue rectangle and a white "T" also accept other means of payment in addition to the VIA-T box, such as credit cards or cash payments for example. Tail-backs may occur in these lanes on account of manual payments by users without a VIA-T Box.
Have your VIA-T Pass sent conveniently to you at an address in Europe so waiting for you on arrival.
Pre Purchase here:   http://tolltickets.com/
9 / Road Tolls United Kingdom
Currently there is a single major road, the M6 Toll and a small number of bridges and tunnels where tolls are collected.
London Congestion Zone
The Congestion Charge applies to most vehicles entering Central London. Make sure you know how it might affect your visit.
The Congestion Charge comes into effect on weekdays between certain times of the day and in various locations within Central London. You must pay the Congestion Charge to avoid receiving a fine of £130, but some drivers and vehicles are exempt or qualify for discounts.
| | | |
| --- | --- | --- |
| Monday - Friday | 07.00 – 18.00 | £11.50* |
* If you pay in advance or by midnight on the day of travel.

There is no charge on weekends, public holidays, between Christmas Day and New Year's Day inclusive, or between 18:00 and 07:00 on weekdays.
Scheme started: 17 February 2003
Zone operates: 7am to 6:00pm weekdays excluding bank and public holidays
Pay by phone: 0343 222 2222
Pay online: www.cclondon.com
Area covered: Congestion Charging Interactive Maps
---
Durham - Charging Scheme:
Dates & Times:         10:00 to 16:00, Monday to Saturday. No charge on public holidays.
Vehicles affected:    all vehicles
Costs:                          £2.00 per day
10 / USA & Canada Toll Pass Hertz
Hertz offers PlatePass® Electronic/Video Toll Payment for toll roads!
WHAT IS PLATEPASS®? It's an electronic means for paying road tolls. If you choose to use it, you'll avoid delays at toll lanes and be on your way faster.  If you use PlatePass®, the credit card that you used for your rental will automatically be charged for tolls incurred at the cash rate and applicable service fee, and you'll be able to bypass long cash lanes. PlatePass®, a division of American Traffic Solutions, administers this service for Hertz.
WHERE CAN I USE IT? PlatePass® is currently available on multiple toll roads in multiple states across the U.S. and in Puerto Rico. The PlatePass® service may be used on toll roads administered by the following toll road services:
| PlatePass® |   |
| --- | --- |
| E-Z Pass | For DE, MA, MD, ME, NH, NJ, NY, OH, PA, VA, WV |
| I-Pass | For IL, IN |
| EZ Tag/TX Tag | For TX |
| Sun Pass/E Pass | For FL |
| EXpress Toll | For CO |
| FasTrak | For Greater San Francisco Bay Area Bridges |
| AutoExpresso | For Puerto Rico |
HOW DOES IT WORK? Depending on where you go, the systems work slightly differently.
For E-Z Pass & I Pass toll roads, PlatePass® is used with a toll transponder located within a shield box that is affixed to the windshield below the rearview mirror.  To use PlatePass®, simply pull out the transponder from the shield box, so that the toll agency can electronically read the pass.  If you don't want to use PlatePass, please make sure the transponder remains fully within the shield box and pay all tolls with cash or your own toll transponder compatible to the toll road.
For AutoExpresso toll roads in Puerto Rico, PlatePass® is used with an electronic tag affixed to the windshield behind the rearview mirror.  In Puerto Rico, not all Hertz vehicles may use the PlatePass® service.  If the vehicle rented to you contains a PlatePass® decal in the upper-left corner of the windshield and an electronic tag behind the rearview mirror, it is equipped for the PlatePass® service.  If it does not, you may not use the PlatePass® service.  To use PlatePass®, simply drive through a designated AutoExpresso toll lane.  If you do not want to use PlatePass® or the vehicle rented to you is not equipped to use PlatePass®, pay all tolls with cash in cash toll lanes.
For all other toll systems on which PlatePass® may be used, the toll road system will automatically read the vehicle's license plate if the vehicle passes through a toll lane without paying the toll with either cash or a compatible toll transponder.  There is no device inside the car that needs to be used.  If you don't want to use PlatePass®, you must pay all tolls with cash or with your own toll transponder compatible to the toll road.   For more questions, please visit www.PlatePass.com.
HOW MUCH DOES IT COST? If you use PlatePass®, you will be charged a $2.95 service fee for each day of the rental including any days on which PlatePass® is not used, up to a maximum of $14.75 per rental month, plus incurred tolls at the cash toll rate.  PlatePass LLC will automatically charge the credit card used for the rental, typically one-to-three weeks after the rental closes.  Processing of charges can at times take up to a month or more.  Cash customers will be invoiced by PlatePass LLC.  PlatePass® charges will not appear on your invoice for your rental.  PlatePass® charges can be viewed at www.platepass.com.
11 /  USA & Canada Toll Pass Alamo
Toll Pass Automatic- Renter may be charged a Tollpass Convenience Charge (TCC) (where available) of $2.00 per day during the Rental Period for each day the rental vehicle is operated on a TCC Covered Road and the vehicle operator does not pay an applicable toll.  Total TCC will not to exceed $6.00 per Rental Period.  In addition to the TCC, Provider or a third party may separately charge Renter's credit or debit card for the posted cost of all tolls that are not paid by the vehicle operator and are incurred during the Rental Period.  Operation of Vehicle on a roadway or bridge not covered by Toll Pass Automatic, where applicable tolls are not paid by the vehicle operator, may subject the Renter to fines and penalties.  Provider may transfer Renter's name, address, credit card information and all other data necessary to enable the collection of all tolls and associated charges incurred during the rental period.  Renters can elect to use their own transponder on TCC Covered Roads.

Toll Pass Waiver- Renter may elect Toll Pass Waiver (TPW) to rent a toll pass transponder device in Chicago.  The TPW charge is $6.99 per rental day.  The TPW charges include all tolls generated on all toll roads. Toll Pass Device- Renter may rent a toll pass device at the time of rental at airport locations in the northeast United States.  The charge for the toll pass device is $2.50 per rental day with a maximum of $10 per Rental Period.  In addition to the toll pass device rental charge, Provider or a third party shall separately charge Renter's credit card or debit card for the posted cost of all tolls that are not paid by the vehicle operator and incurred during the Rental Period.   
12 / Australia
SYDNEY
All Rental Companies make copies of a information brochure available at all Sydney rental locations clarifying the above procedures. Please note that renters who do not organise an appropriate pass may be fined, and will be debited any charges received by Hertz/Thrifty/Europcar as well as a $30.00 GST administration fee. The situation in Sydney today. All of the toll roads in New South Wales are in the Sydney metropolitan area. A summary of the existing toll roads follows (below):
Number
Name
From
To
Cost for cars
M1 

Sydney Harbour Bridge and Tunnel

Time of day tolling came into effect on the Sydney Harbour crossings on Tuesday, 27 January 2009.

The move aims to help ease traffic congestion on the busy corridor and to encourage motorists to travel outside peak hours where possible. Charged in a Southbound direction only.

North Sydney
City
Weekdays
From 6:30am - 9:30am > $4
From 9:30am - 4pm >$3
From 4pm - 7pm > $4
From 7pm - 6:30am > $2.50
WEEKENDS
From 8am - 8pm > $3
From 8pm - 8am > $2.50
CCT
Cross City Tunnel
Darling Harbour
Eastern Distributor exit or Rushcutters Bay

$4.74

Charged in both directions

M1
Eastern Distributor
Mascot
Woolloomooloo
$6.00
Flat rate, charged in the northbound direction only.
M2 
Hills M2
West Baulkham Hills
North Ryde
Up to $4.95
depending on distance
Flat rate, charged in both directions.
M4
M4 Western Motorway
Emu Plains
Strathfield
No Toll !!!
M5
M5 South West Motorway
Prestons
Beverly Hills
$4.40
Flat rate, charged in both directions.
M7
Westlink M7
M2, M4 and M5
M2, M4 and M5
The current toll for the Westlink M7 is 35.84 cents per kilometre capped after 20 kilometres at $7.17
Lane Cove Tunnel & Military Road E-Ramp  have no cash booths. The easiest way to use them and to pay for tolls is with a Roam Express e-TAG. It works on all toll roads in Australia - all you have to do is attach the e-TAG to your windscreen, and drive through any electronic toll point without stopping.
LCT
Lane Cove Tunnel
East & Westbound
Flat rate, $2.94 charged in both directions in the tunnel.
LCT
Lane Cove Tunnel
Military Road E-Ramp
$1.47 Flat rate, charged in both directions on the north facing ramps at Falcon Street.
(Westlink M7 connects the west by providing an uninterrupted journey between the M2, M4 and M5 motorways.Westlink M7 is a fully electronic tollroad with no toll booths.)
For more information on Sydney's 'cashless' toll roads, please visit: 
http://www.rta.nsw.gov.au
http://www.westlinkM7.com.au
http://www.crosscitymotorway.com.au
http://www.tollpay.com.au
http://www.transurban.com.au
http://www.connectormotorways.com.au Lane Cove Tunnel
---
MELBOURNE
CityLink is a toll road expressway that links Melbourne's three major freeways: the West Gate, the Monash and the Tullamarine. The West Gate Freeway is the western gateway to regions including the Great Ocean Road; the Monash Freeway is the south-eastern gateway to Phillip Island, Gippsland and Lakes and Wilderness; and the Tullamarine Freeway is the northern gateway to the airport and the Goldfields.
People using CityLink don't need to stop to pay for their travel as this is all done electronically via overhead gantries that record your licence plate number and travel details. If you're visiting Melbourne and planning on using CityLink, all you need to do is purchase a CityLink Pass. Make sure you do this before you travel or within 3 days of travelling as fines apply. CityLink has three passes that are available for infrequent users and those visiting Melbourne:
A 24 Hour Pass, costing $13.50, provides unlimited travel on CityLink for 24 hours from the time you first drive on CityLink.
A Weekend Pass, costing $13.50, allows you to travel from noon on Friday until midnight on Sunday.
The Tulla Pass, costing $4.80, is available for travel between Bulla Road and Flemington Roads on the Tullamarine Freeway.
And, if you find yourself on CityLink and haven't got a pass, you can purchase a 24 Hour Pass or Tulla Pass until midnight three days after you travelled on CityLink. So, if you travel on CityLink after midday Friday, you have until midnight Tuesday to purchase a pass.
Purchasing a CityLink Pass is simple - you can visit the CityLink website call Customer Service on 13 26 29, visit an Australia Post office or use a Touch machine at Melbourne Airport and major Shell petrol station outlet in Victoria.
---
BRISBANE
go via is Queensland Motorways' toll payment system and makes getting around Brisbane safe, easy and reliable. go via has a number of casual toll passes to help you get around and enjoy Brisbane, and the beautiful south east Queensland region.  
A go viaVIDEO pass set up with a credit card can be used on all toll roads in Queensland and can be set up before or after your travel.   This product is not available at retailers and can be set only with a credit card. 
This is Guide only
Our toll information covers certain countries and should be used as a guide only. Prices are approximate and may change from time to time.
The AA UK provides a wealth of information.
http://www.mappy.co.uk is another fabulous web-site giving the road traveller a wealth of information. 
end faq